In honor of the fifth anniversary of Agape Ukraine, four stories have been told of people who were forced by circumstances to seek help from the rehabilitation complex. Today is the fifth and the last story.
Oksana Kapishevska is 48-year-old woman who aspires to find a job because it means moving forward, self-realization and a steady income. She also dreams of having a ramp near her house, going to Lviv again for a cup of local coffee, and visiting one of the Joni and Friends camps in the USA.
She is often called the «crystal» lady
Oksana has spent most of her life in Lutsk. Few people know that she was born and lived in Odessa until the age of four. As a result, her character is much like that of citizens of Odessa. This is especially visible in her sense of humor, optimism and passionate love for the sea.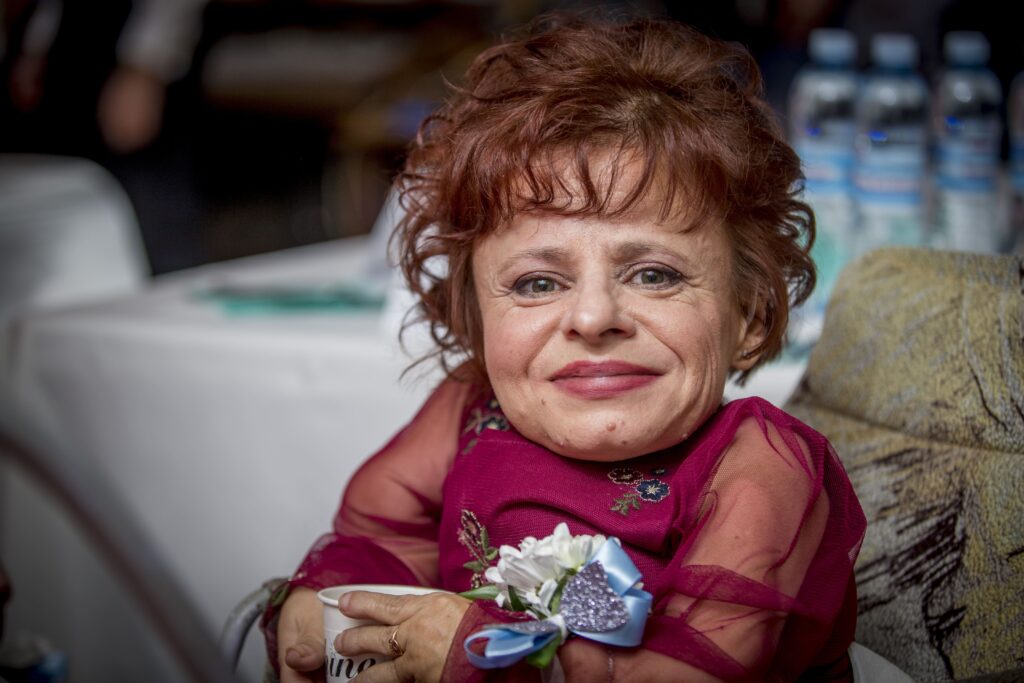 Because of the rare disease that she has, Oksana is often called the "crystal" lady. Her first bone fractures occurred in her mother's womb, but doctors did not inform parents until three months after her birth when they diagnosed her with osteogenesis imperfecta. Then disease manifested itself in delayed development such as learning to sit much later than other children and being unable to walk at all. She does not
remember how many fractures she has had in her life, but says more than 100, although she stopped counting long ago.
It took her a while to dare to enter the university
In Odessa, Oksana's family lived very modestly. They huddled together in a small room and had to wash outside. At that time, doctors did not know how to deal with her disease. Their only advice was to go to the sea and take vitamin D. So the girl's mother tried at least to temper her body through controlled exposure to the cold.
Oksana's parents soon divorced, so she and her Mom moved in with her grandmother in Lutsk, and contact with her father was cut off. In the coming years, she received only two birthday cards from him. Later, when she became an adult, she decided to find him. It turned out, however, that he had died all alone. His sister said that he was ashamed that he could not give anything to his child, so he did not try to communicate with her.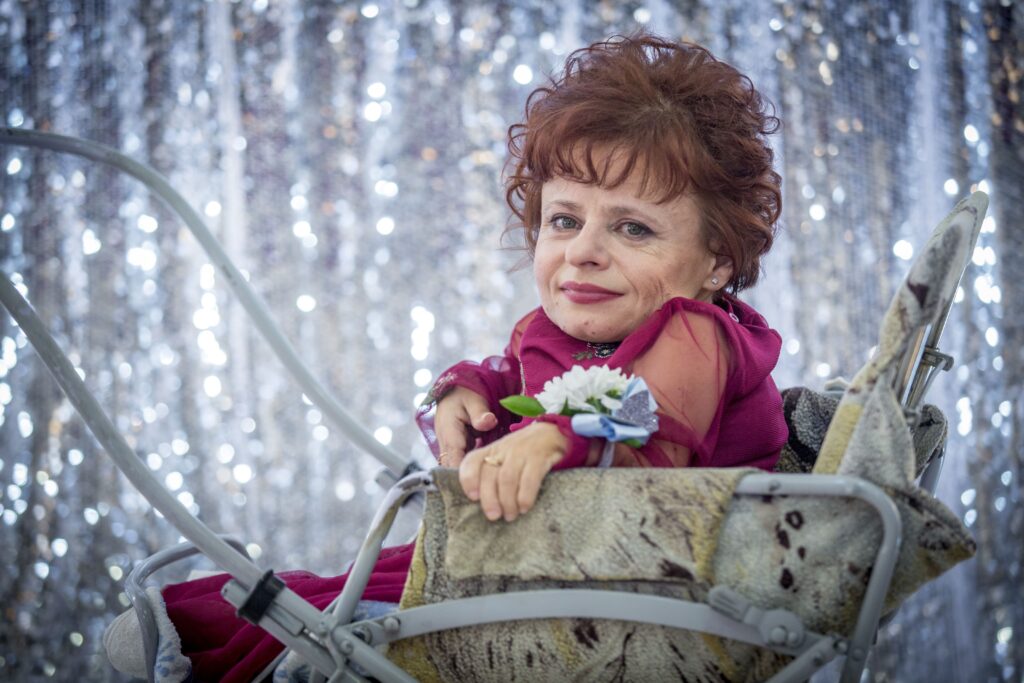 Life in Lutsk was diverse. There was enough good and enough bad. Oksana's mother remarried, and she soon had a sister. Attending preschool was out of question. Due to the fragility of her bones, any careless movement led to the application of casts or splints. For a «crystal» girl who constantly wanted to spin and turn, this could be extremely dangerous.
She did begin school but only at the age of eight. Since there were no inclusive classes at the time, all her studies took place at home. Books became her best friends. Her grandmother had a large home library and she was happy to reread every book.
Oksana did not dare to get a higher education immediately. It was only when she turned 29 years old that she entered the Faculty of Law at the Lesya Ukrainka Volyn National University. She was never particularly interested in law, but she read many psychological books. She even considered getting a degree in psychology. She shared this dream once with a friend who advised her to choose a profession as a
lawyer. That same year she became a university student. It was quite by accident and unexpected even for herself.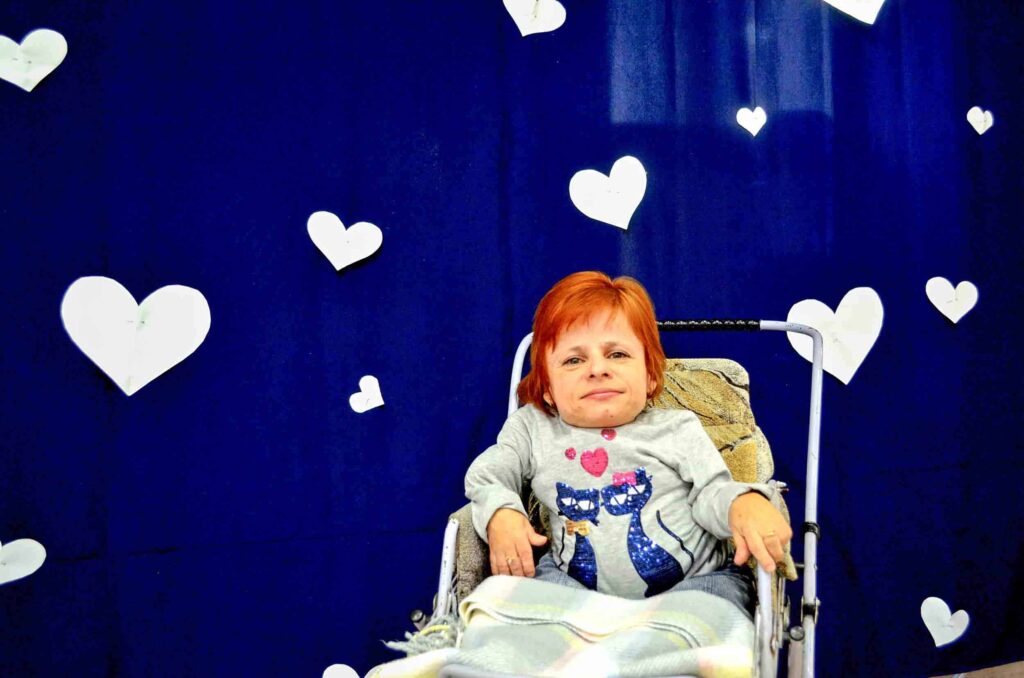 In the first year her professors were afraid of her
Oksana said, "When the classes started I realized how interesting it was to learn about laws, rights and responsibilities. I saw them in a completely different way. After all, laws are not just about frameworks or restrictions. If you use them prudently, know their essence, depth and morality, you will feel real freedom."
It was quite difficult for Oksana to study, especially in the first year. On the one hand, there were technical problems. There was no elevator in the building where the classes took place and the ramp was not appropriate, so she had to be carried to the fourth floor. On the other hand, there were many classes each day. She could not write everything down in time, so she had to borrow notes from other students and
copy them at home. Her mother went to the library to collect the needed material. And so, together they studied for 6 years. Oksana's hearing eventually began to decline, another symptom of her disease, and her wheelchair had to be placed closer to the professors so she could hear them.
"Even healthy students could not stand to be in class all day," says Oksana, "but I was very diligent, so I endured."
During the first year, she had the impression that the professors were afraid of her. They doubted whether she would be able to answer their questions. Everything changed, however, when they saw that she was always well-prepared at the lectures, answered questions, and had all the notes. Oksana did her best. Therefore, with time, fears were replaced by deep respect.
I have been attending Fimiam Church for about 18 years
When Oksana entered Lesya University in 2002, the Creativity Studio, organized by volunteers from the Fimiam Church, also appeared in her life. Participants of the Studio made very beautiful and exclusive works. It was a joy to make something to give to relatives, friends at the university, professors or library staff.
In 2016, Oksana had the opportunity to attend the opening of the Agape Rehabilitation Complex. At the time, she did not think she would ever need the services offered there since this facility was designed to provide rehabilitation and care for people with disabilities.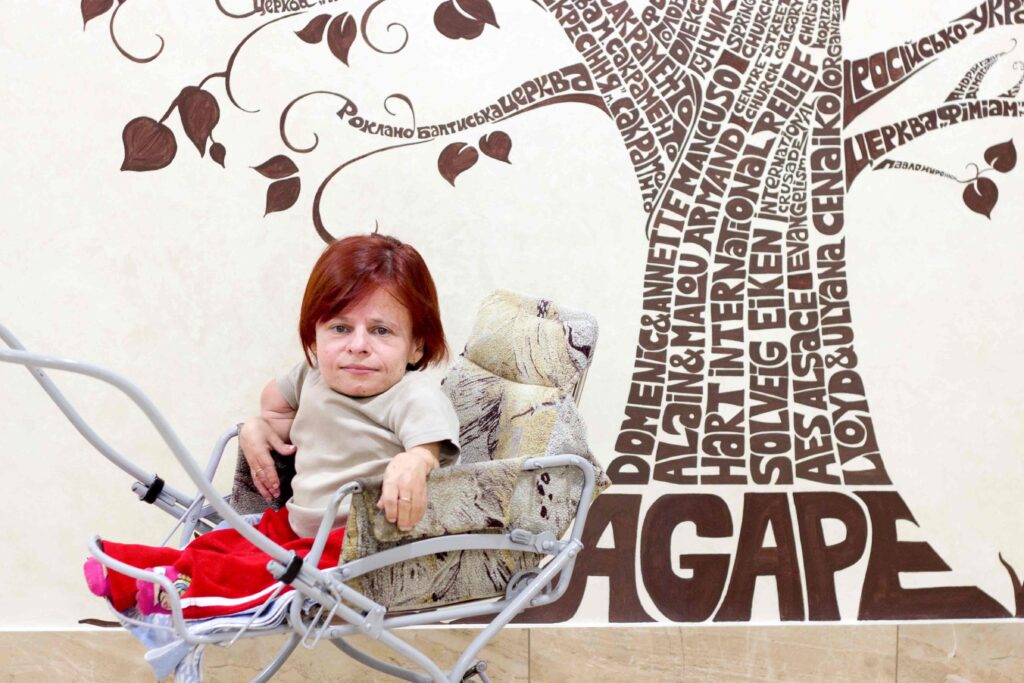 Everything is impressive at Agape
Over time, however, Oksana's disease took its toll. She suffered fractured arms and legs and when she also experienced back problems, she had to be bedridden for a long time. For more than half a year, she did not go outside at all. She realized that she just needed some change and went to spend 5 days at the rehabilitation complex.
"Everything is impressive at Agape," says Oksana, "from the ramps, spacious rooms, food and attitude of caregivers, physiotherapists and other workers to people. I also felt the difference between when people carry you and when you can move freely thanks to an electric wheelchair. I have an electric wheelchair at home, but unfortunately I cannot use it because the ramp is not appropriate."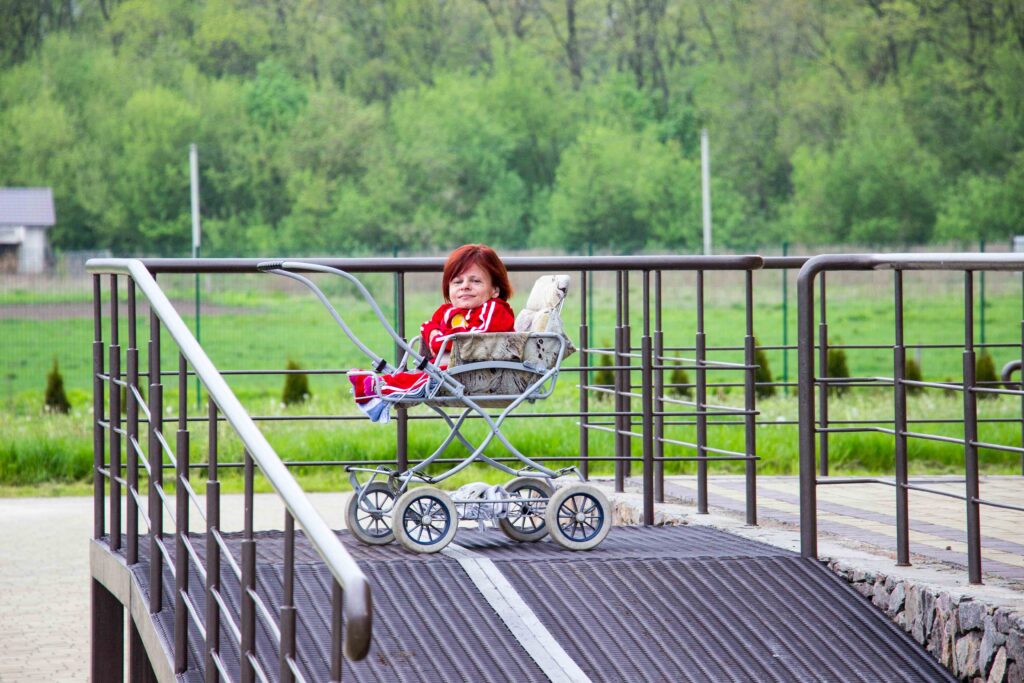 The «crystal» lady is extremely grateful to the benefactors who support the work of the complex. She is also very thankful to Fimiam Church, which she has been attending for many years. Despite all the difficulties Oksana faces in life, she does not lose optimism.
"I love my life for everything interesting and unexpected that is in it, and especially for the many nice people. Thank God for His love for me. Because I live, not exist, as if I were beyond these sufferings and problems. I really want other people to feel it too. I am sure that under any circumstances you can be happy with God," claims Oksana.